Nutrition and Fitness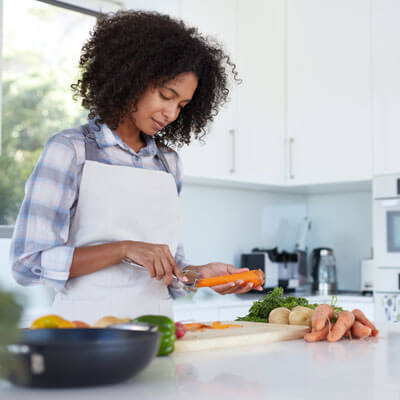 Would you like to get your nutrition on a better track? At Health 1st Chiropractic & Wellness Center, we are pleased to offer personalized programs that address the food you eat as well as your fitness levels. This approach is particularly powerful when combined with chiropractic to give you an overall lifestyle makeover.
Your Nutrition Overhaul
We offer an 8-week, tailored nutrition program. You will receive an individual plan that is right for you. No fad diets are found here – we educate you on what will work for you, making sure your plan is focused on your goals. You will meet for one-on-one weekly coaching sessions with our fitness and nutrition expert, which can also be done virtually. In addition, our coach will create an appropriate plan of movement and exercise that is suited to your current condition.
Changing Our Food Paradigms
There are so many myths and trends when it comes to food and dieting. We want to help you see your nutrition in a different way, viewing food as fuel for your body. You will be educated about what you need to eat, and why so that you can begin to experience better overall wellness.
After all, food is fuel. You want to be sure you're fueling your body with the cleanest, purest forms of nutrition available.
Meeting Your Individual Needs
There are no one-size-fits-all plans when it comes to nutrition at our office. If you're dairy-free, gluten-free or vegan, know that we can create a plan that works with your needs.
We want to meet you where you are now and make sure any alterations we suggest are possible for you to achieve. You'll have a support system through the transition and lifestyle changes. Nobody is perfect, and you may fall off the wagon from time to time. But know that we're here to pick you up and get you back on track when you do.
Our Nutritional Products
You can buy supplementation you need as directed by your personalized program directly through us. We work with Ortho Molecular Products, a leader in the field, thanks to their heavily researched lines and third-party testing.
Additionally, we carry doTerra and Revive essential oils, which may be recommended to you as a part of your plan or can be purchased at any time.
Combining Chiropractic and Nutrition
There are physical, chemical and emotional stresses in life that cause subluxations or misalignments in the joint. Dr. Gina adjusts the subluxations, which your body should then be able to sustain. If you're continually exposed to the form of stress that caused the subluxation, however, your body won't be able to hold the correction.
Get Started Today
We'll work one-on-one with you to reach your goals. Contact us today to learn more about our individual programs for nutrition Inver Grove Heights!
CONTACT US »

Nutrition Inver Grove Heights,South St Paul, West St Paul & Mendota Heights MN