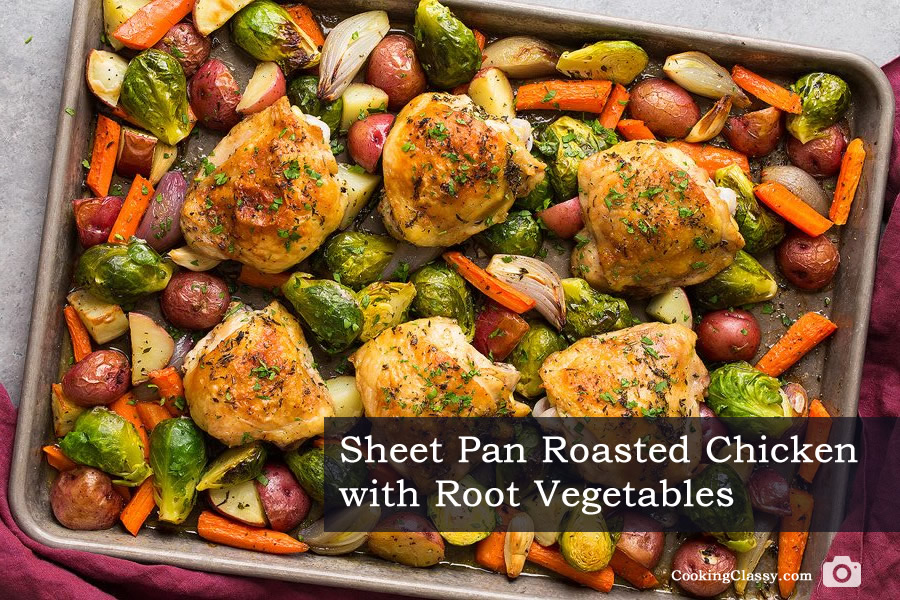 Ready in: 55 minutes
Ingredients
12 ounces Brussels sprouts, trimmed and halved
12 ounces red potatoes, unpeeled, cut into 1-inch pieces
6 shallots, peeled and halved lengthwise
4 medium carrots, peeled and cut into 2-inch lengths, thick ends halved lengthwise
6 garlic cloves, peeled
1 Tbsp vegetable oil
4 tsp minced fresh thyme or 1 1/2 tsp dried, divided
2 tsp minced fresh rosemary or 3/4 tsp dried, divided
1 tsp sugar
Salt and pepper
2 Tbsp unsalted butter, melted
2.5 – 3 lbs bone-in, skin-on chicken thighs
Instructions
1. Adjust oven rack to upper-middle position and preheat oven to 475 degrees.
2. Toss Brussels sprouts, potatoes, shallots, carrots, garlic, oil, 2 tsp fresh thyme, 1 tsp fresh rosemary, sugar, 3/4 tsp salt, 1/4 tsp pepper together in a large mixing bowl.
3. In a small mixing bowl stir together melted butter, remaining 2 tsp fresh thyme, remaining 1 tsp fresh rosemary, 1/4 tsp salt and 1/8 tsp pepper. Pat chicken dry with paper towels and season with salt and pepper.
4. Place vegetables in a single layer on an 18 by 13-inch rimmed baking sheet, arranging Brussels sprouts in center.
5. Place chicken, skin side up, on top of vegetables, arranging breasts pieces in center and thighs and drumsticks around perimeter of sheet (since I only used thighs I mostly just placed them over the Brussels sprouts).
6. Brush chicken with herb butter. Roast until breasts register 165 degrees and drumsticks/thighs register 175 degrees, 35 – 40 minutes, rotating pan halfway through roasting.
7. Toss vegetables with pan juices, season with salt and pepper to taste and transfer to platter or plates and serve warm (I also sprinkled on a little fresh parsley which is optional).
For keto option replace potatoes with broccoli and carrots with cauliflower.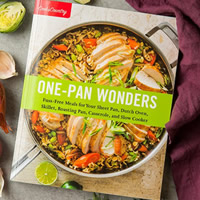 Notes
Recipe source: recipe adapted from
Cook's Country One Pan Wonders Cookbook